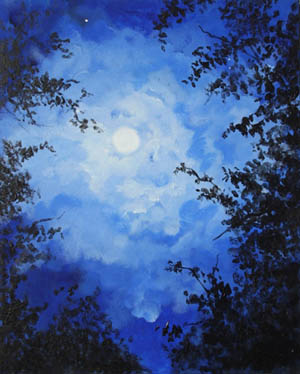 From Wikipedia.


"Blue Moon of Kentucky" is a waltz written in 1947 by bluegrass musician Bill Monroe and recorded by his band, The Blue Grass Boys. The song has since been recorded by Elvis Presley, Patsy Cline, Ronnie Hawkins, Wanda Jackson, LeAnn Rimes, The Beatles, Boxcar Willie, Ray Charles and others.


Bill Monroe: Blue Moon Of Kentucky [purchase]
Bill Monroe wrote the song in 1947, but didn't record it until three years later. Carl Perkins played an uptempo version of this song in his early live performances. When the just starting out Elvis Presley, along with Bill Black and Scotty Moore, completed a take of the song in July 1954, Sun Records owner Sam Phillips exclaimed, "Boy, that's fine, that's fine. That's a POP song now!" Presley responded, "That sounds like Carl Perkins!"
Elvis Presley's version went to number one on the country charts across the American South in 1954. This song was the second recorded by Presley, and released by Sun Records. According to guitarist Scotty Moore, it was bassist Bill Black who began playing an irreverent version of the song during an up until then unproductive recording session to produce a second side for the previously recorded "That's Alright Mama". Presley and Moore then joined in.
Elvis Presley: Blue Moon Of Kentucky [purchase]
In 1995, the remaining Beatles, Paul McCartney, George Harrison, and Ringo Starr performed an impromptu 4/4 version of the song that was eventually released on the Bonus DVD of The Beatles Anthology video release.
The Beatles: Blue Moon Of Kentucky [purchase]
On her 2006 Elvis tribute album, I Remember Elvis, Rockabilly Queen Wanda Jackson shows she can still bring it. Providing the big beat behind her is Blondie drummer Clem Burke.
Wanda Jackson: Blue Moon Of Kentucky [purchase]
"Blue Moon of Kentucky" is the official bluegrass song of Kentucky. In 2002, Monroe's version was one of 50 recordings chosen that year by the Library of Congress to be added to the National Recording Registry. In 2003, CMT ranked "Blue Moon of Kentucky" #11 on its 100 Greatest Songs in Country Music.