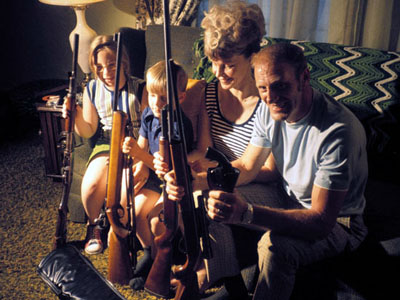 The Beatles: Happiness Is A Warm Gun

[purchase]


According to John Lennon, the title for Happiness Is a Warm Gun came from the cover of a gun magazine that producer George Martin handed him: "I think he showed me a cover of a magazine that said 'Happiness Is a Warm Gun.' It was a gun magazine. I just thought it was a fantastic, insane thing to say. A warm gun means you just shot something."

A complicated song, it took took 15 hours and over 100 takes to complete because of the various different time signatures; beginning in 4/4 time, the song shifts to a 3/4 time for the guitar solo in the "I need a fix... " section. This gives way to 6/8, 3/4, and 4/4 measures in the "Mother Superior... " section before returning to 4/4 for the majority of the doo-wop style ending. During Lennon's spoken-word intro, the song briefly switches into 6/4.

Lennon said the song was "sort of a history of rock and roll," as it features numerous different sections but is less than 3 minutes long. Though not particularly getting along well at the time, the band collaborated as a close unit to work out the complex rhythms and meters, which caused it to be considered one of the few true Beatles songs on the White Album. Considering the cause of Lennon's death, it has to be one of the most ironic tunes of all time.