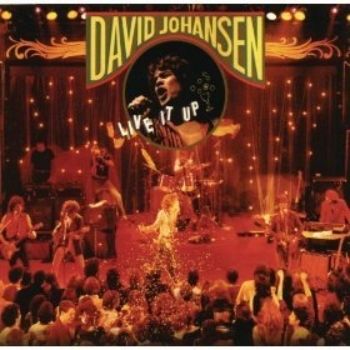 David Johansen: We Gotta Get Out Of This Place/Don't Bring Me Down/It's My Life
[purchase]

Last week, I watched all 10 episodes of Aziz Ansari's great new Netflix series Master of None. In addition to being very funny, the show deals head on with issues of racism, sexism and ageism, among other "isms." So, when I thought about suggesting a cover song theme for the next two weeks, I became sensitive to the fact that over the years we have done nine other themes focusing on cover songs, and in each case, but one, the spotlight artists were male. Joni Mitchell was the only featured woman. (And as I write this, I realize that all nine artists are white, something that also needs to be addressed). And that's how we ended up with a theme highlighting Carole King Covers. (That's a lot of "K" sounds, so it must be funny.)

Next year is the 45th anniversary of the release of Tapestry, which was King's second solo release. It established her as a commercial success as a performer, and is still one of the largest selling albums of all time. Pretty much every song on the album is great, and I loved it when I was a kid, but it is, honestly, not an album that I pull out to listen to anymore. I hope that some of the other writers here write about covers of songs from Tapestry, and I might down the road, but not today.

By 1971, when Tapestry was released, King had already had a 20 year long music career, beginning with her appearance on the Horn and Hardart Children's Hour as an 8 year old, recording demos in high school with her friend Paul Simon, and, while attending Queens College, writing songs for others, mostly with Gerry Goffin, from an office in the famous Brill Building in Times Square. The number of hit songs she turned out is stunning, as is the breadth of styles—artists as diverse as Aretha Franklin, The Monkees, The Shirelles, Herman's Hermits, The Drifters and even The Beatles recorded covers of her songs. The Broadway show Beautiful does a nice job bringing this to life, as well as discussing King's later career. It is, of course, a cleaned up, streamlined version of the story, but it is very entertaining.

The Animals, led by singer Eric Burdon, were created in the early 1960s, and featured a gritty, blues based sound. In 1964, they released their signature song, a cover of the traditional blues song, "House of the Rising Sun." Their producer, Mickie Most, reportedly called into the offices of Screen Gems music, then run by Don Kirshner, looking for songs. A furious competition ensued among the various writers and teams, which ultimately resulted in three hits—"We Gotta Get Out Of This Place," written by Barry Mann and Cynthia Weil (who were friends and rivals of Goffin and King), "It's My Life," written by the team of Roger Atkins and Carl D'Errico, and "Don't Bring Me Down," a Goffin/King composition, which was the last hit for the band, before it was renamed "Eric Burdon and The Animals," before breaking up. (Burdon re-formed the band, with new members and a psychedelic style after moving to California in 1966, although the old incarnation also had reunions.)

I had the opportunity to interview David Johansen, I believe in 1981, when he appeared in Trenton at City Gardens. I might even have introduced him. Johansen is one of those musicians who has successfully reinvented himself over the years, from his days fronting the legendary New York Dolls, which was followed by a solo career under his own name, to his partying alter-ego Buster Poindexter and his more recent country-blues work with The Harry Smiths. I was, and continue to be a big fan of the music he released in the early '80s, particularly his first three albums, David Johansen, In Style, and Here Comes the Night, all of which received heavy airplay on my radio shows.

Shortly after I graduated from college, and regrettably left the radio world behind, Johansen released a great live record, Live it Up, which capitalized on his justified reputation as a great concert performer. The collection kicks off with an intense medley of the three songs that Mickie Most bought for the Animals from Screen Gems, including a great version of "Don't Bring Me Down." Not only is Johansen in total command of the material, his band is tight. It included guitarists Huw Gower, who power pop lovers might know best as the guitarist on The Records' incredible "Starry Eyes," and Dave Nelson, who was in Nektar, New Riders of the Purple Sage and The Turtles, as well as keyboard player Charlie Giordano, who now plays with the E Street Band and drummer Tony Machine, who had been in later versions of the New York Dolls.