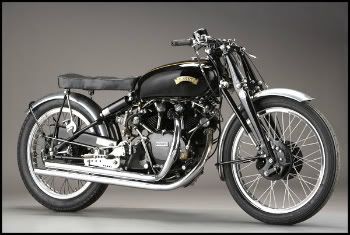 Richard Thompson: 1952 Vincent Black Lightning

[purchase a different live version]

In June, 2000, my family went to London. As it turned out, Richard Thompson was playing in Croydon, not too far away, and we got tickets. My wife and I were big fans, and my kids, who were 10 and nearly 7, also loved his music. WFUV, currently my favorite radio station, plays him often, and he regularly appeared at the Tarrytown Music Hall, just down the road from our house, and his shows were a family outing. If you are a fan, you know this song, probably the one song that Thompson has to play every night to avoid rioting. It is a modern ballad, in the style of an old English ballad, about the love of a boy (James) for a girl (Red Molly) and a motorcycle (the Vincent). To me, it is also a perfect short story. In only a few minutes and verses, Thompson immerses you in the setting, fills out the characters and tells his story. I'm an American professional who has never ridden a motorcycle, yet Thompson's artistry makes me feel what it is like to be an English criminal and understand why he loves both the woman and the bike. And when he plays the song live, his guitar playing is always mind blowing.

The concert at Croydon was an excellent show. It is remembered particularly in my family for three reasons. First, the opening act, a singer/songwriter, was awful. I won't name her here, but if you want to know, I'm sure you can find it on the Internet somewhere. Second, early in the set, Thompson broke a string, and was able to change it himself while playing and singing "Twist and Shout." Finally, there was this version of "1952 Vincent Black Lightning," with two added verses, which are rarely performed. In his pre-song banter, Thompson says that they are "more for the enthusiast." (Unfortunately, the banter is attached to the end of the prior track, so I am not including it here).

One of the extra verses, which becomes the second verse, describes the history of the Vincent Black Lightning, and how it broke the land speed record, This is why, James explains, he had to have one of his own. In the standard version, after James is shot during a robbery and is dying, he hands the keys to the Vincent to Molly, gives her one last kiss, and dies. The narrator concludes, "He gave her his Vincent to ride." But the additional verse goes on to describe how Molly stole James' body from the hospital, had him cremated, his ashes contained in the Vincent's fuel tank and buried at the side of the road. In this version, the narrator concludes, "And even the hard men cried, And forever on his Vincent he rides."

Is the song better with the two verses? Presumably, Thompson, the writer, doesn't think so, or he would have recorded the song with them, or at least perform the song live with them on a regular basis, and he doesn't. I have to agree. But I'm glad I was able to hear them.