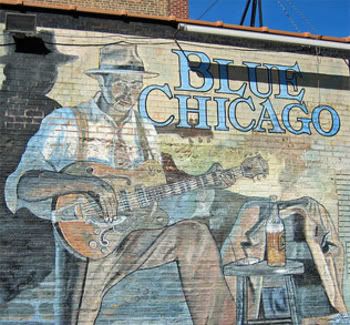 Eric Clapton: Before You Accuse Me

[purchase]

Magic Slim & The Teardrops: Before You Accuse Me

[purchase]

I've been posting here for more than two years now, and this is the first time I have run into this situation. Here are two covers of Before You Accuse Me, which obviously fits our theme. However, Bo Diddley's original version does not, because he added in parentheses (Take a Look at Your Self). So I could have posted the original two weeks ago, but not now. No matter. Neither Eric Clapton nor Magic Slim recreate the original, but both honor its spirit and deliver versions that ring true.

Magic Slim was part of the original Chicago blues scene of the 1950s, when big names like Muddy Waters, Little Walter, and yes, Bo Diddley were defining the sound of a city. Magic Slim was barely into his twenties at the time, and he could not compete. Like so many of the blues stars of the day, Slim had come up from the south, but unlike his more successful peers, Slim gave up on making it in the Chicago scene, and returned home to Mississippi to improve his skills.

By the mid 60s, British musicians had embraced the blues. They were inspired by the Chicago sound of ten years earlier, but their music also had a rock n roll bite to it. Many of these British blues musicians finished honing their skills in John Mayall's band the Bluesbreakers, and the most famous of these was Eric Clapton. Also in the mid 60s, Magic Slim returned to Chicago. His skills had improved, he had put together the best band he had ever had, and the Chicago of the mid 60s was less competitive. This time, Slim was a success.

Another 25 years went by. Magic Slim kept doing his thing, and became a fixture on the Chicago blues scene. Clapton, like so many of his peers, strayed far from the blues. He sought and found pop success, both as a singer and a songwriter. Clapton even stopped playing lead guitar during this period. But then, Clapton's pop fortunes began to wane. He could adapt to the pop tastes of the 70s, but the 80s were another matter. Finally, the blues called Eric Clapton back.

In November of 1989, Eric Clapton released the album Journeyman. It was his return to the blues, and Clapton still had it. His version of Before You Accuse Me comes from that album, and Clapton attacks the song as he might have done in his youth. He returns to playing lead guitar, and he shows why he was regarded as a guitar god. But it's not just show; as it always did, Clapton's solo is built on the feel and emotion of the song.

Three weeks later, Magic Slim & The Teardrops released Gravel Road. Slim takes a very different approach to Before You Accuse Me. Where Clapton emphasizes the emotion of the song by hitting the beat hard, Slim sings around the beat, tugging at it, and achieving the emotional tension that way. There are solos here, but the emphasis is on the group sound. The feel is more relaxed, but no less emotionally true. Personally, I'm glad to have the song done both ways.

Since 1989, Clapton has gone back to making pop music, but he stops back and still makes a blues album from time to time as well. I get the feeling that the blues will never entirely leave him again. Slim just kept on doing what he was doing. In recent years, age has caught up to him, and he is no longer so active. But, whatever happens, has created a great body of work to inspire another generation of blues artists yet to come.