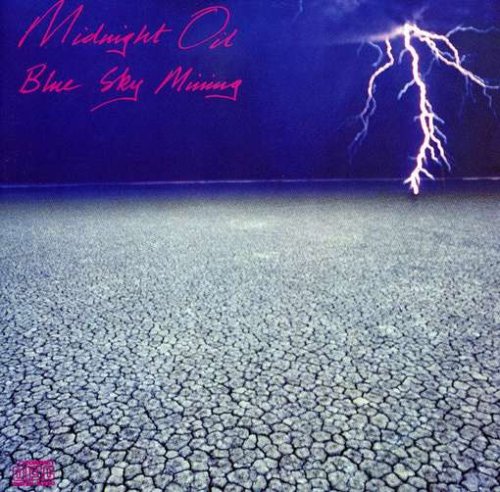 Midnight Oil: Blue Sky Mine
[
purchase
]
There are many great bands and musicians from Australia, and I hope that we get to a bunch of them over the next two weeks. I'm going to start off with my favorite, Midnight Oil. Like most Americans who have heard of Midnight Oil, I first became aware of them with what is still probably their most famous song, "Beds are Burning," from 1987's
Diesel and Dust
(released in the US in 1988). It is a great song, highlighting the claims of indigenous Australians to their historic land. And the album raised other concerns of indigenous Australians and environmental matters (and had another great single, "The Dead Heart.")
Not surprisingly, there was a bit of a backlash about a bunch of white guys raising these issues, but it seems that the band did all of the right things (like donating their royalties to indigenous organizations and touring with indigenous bands), and it seems that eventually, most people appreciated the fact that Midnight Oil's popularity raised the profile of these issues.
It was the band's next album, 1990's
Blue Sky Mining
, that made me a confirmed fan—in fact to this day, it remains one of my favorite albums, and is included in any conversation about my "Desert Island Discs." I think that while it lacks a single track that has the staying power of "Beds are Burning," each of
Blue Sky Mining
's 10 songs are strong, and the album holds together from the opening sorta title track, "Blue Sky Mine," about the experiences of workers at the Wittenoom blue asbestos mines, to the environmentally focused closer "Antarctica."
The band decided to both make their music a little more accessible and make their message even more political, and it worked. Not to mention that the success of their prior album gave them the opportunity to work at a better studio, so the sound of the album is much cleaner. There are songs about the need to remember and examine Australia's difficult history, corrupt politics, divisiveness, and other environmental and political issues. Damn—all of these issues are still problems in the world.
Here
's a nice article about the album, including an interview with guitarist Jim Moginie and producer Warne Livesey, looking back on it after 25 years.
Midnight Oil's environmental and political emphasis was not just empty rhetoric. On the tour supporting
Blue Sky Mining
, the band, in New York to play at Radio City Music Hall, pulled up on a
flatbed truck at Exxon's nearby headquarters
, unfurled a banner that read "Midnight Oil makes you dance, Exxon oil makes us sick" and played a 30-minute lunch-hour set to protest the prior year's
Exxon Valdez
spill. Peter Garrett. the band's 6'4" shaved-head frontman was the President of the Australian Conservation Foundation in 1989–1993 and 1998–2002, and during 1993–1998 he was on the International Board of Greenpeace. He also served in the Australian House of Representatives and in the Cabinet as Minister for the Environment, Heritage and the Arts and later as Minister for School Education, Early Childhood and Youth.
David Letterman loved Midnight Oil, and I
loved Dave
. He usually introduced them with some crack about how Garrett scared him, and referred to them as "bushmen," which seemed funny at the time, but hasn't really aged well.
Here
's a video of their performances on his show, and in the last one, you can hear some of Dave's comments.
Being who I am, I did go back and get copies of most of the band's albums before
Diesel and Dust
, and they didn't totally grab me, and I didn't listen to them much. They seemed to be searching for a style, mixing punk, pop and even prog influences that really came together in a trio of albums that started with
Diesel
, continued with
Blue Sky
and ended up with its successor,
Earth and Sun and Moon
(with a fine live set that was released during this period). After that, although they put out some good music, to my ears they never again reached the peak of that three album run. They are a band that I have never seen live, and regret it.
Midnight Oil disbanded in 2002, when Garrett left the band, although they reformed intermittently for benefit shows. They reunited for a world tour in 2017 (somehow, I missed their NY dates) and are
touring
Europe and the UK later this year.