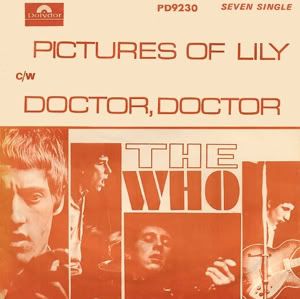 The Who: Pictures Of Lily

[purchase]

I've got 60 songs in my digital collection that time out at 2:42. Deliberating which to share first, though, proved too burdon-some a task for my endorphin-depleted brain, tonight. I decided to pick the alphabetically last 2:42'er... and what a fine song it is!

Insomnia? Masturbation? Pin-up Models? What more should a song need?

The Wikipedia page detailing the single lists a running time of 2:44, while the page for the box-set Thirty Years Of Maximum R&B (where this version is from) shaves it to 2:43. The actual time of this .mp3 is 2:42, though, so I think it's a safe entry.
-------------

Released in 1967, as the tenth single by The Who, "Pictures Of Lily" went to #4 in the U.K., #14 in Ireland, but only managed #51 on the U.S. Hot 100 chart.